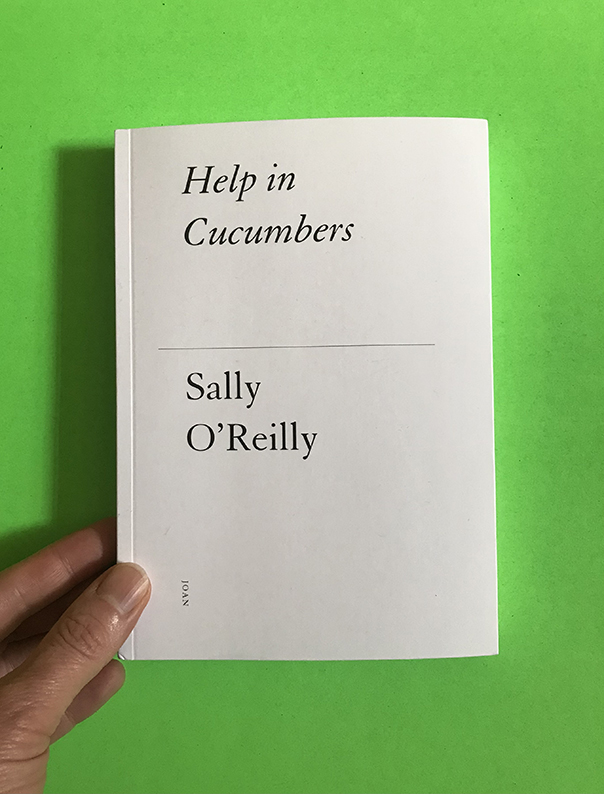 179 pages
182 mm x 128 mm
90 mm cover flaps
Format: Paperback
ISBN 978-1-7392596-4-8
£12 (£2.50 p&p)
Special Edition
Book + T-towel 50 x 70 cm
Edition of 15
£40 (£2.50 p&p)
Help in Cucumbers, Sally O'Reilly

There were artworks in your face, in the till and at the back of your mind. They were stepped over and veered around, ignored and delighted in, carried about in pockets and under tongues, releasing their minor potency slowly or fizzing up sharply before disappearing. Art was made from leftovers and undercurrents, influxes and overflows; it was functional like the dishwasher and as extravagant as drunkenness. Beer poured from work, and work from beer, and art from beer and work, and work from art, and thought from talk, and talk from thought or beer. Artwork and beerart were indiscernible from celebrations, intermingled with popular secrets; all around was a showy volley of private magics.



'Help In Cucumbers is no still life. If the genre O'Reilly has created here has a name, let it be Tipsy. The text flows in perfect pub time, serving up potent comic shots of pub life. From the nimble narrator spills prose that goes listing and trimming around pub lore and folk; gleeful, rascallish, unctuous sentences swish through the mind of the reader like the sticky beaded fronds between bar and galley kitchen. When our narrator claims, "The pub performed itself beautifully," she is spot on. This little book is funny, clever and enviously stylish. I loved it.'
- Rachel Genn


'Like Roxy's alehouse, where Help in Cucumbers is set, this book is brassy and refined, bookish and wide as you like. It is, in part, a potted history of the last 40 years or so of artists trying to make a living on the blurry borders between art-work and work-work. They won't triumph, of course —the stupid kosh of gentrification will get us all in the end. But, never- theless, O'Reilly insists that when people are compelled to work crappy jobs in this crappy world, they'll always find brilliantly preposterous, profoundly serious or exquisitely beautiful ways to take the piss.'
– Jennifer Hodgson


Sally O'Reilly's recent projects include Where They Gather, a spoken word and music album with Kit Downes, Three Scoop Complicator on Mattflix and the online pub The Open Arms. Works of fiction include The Ambivalents, Crude and the opera The Virtues of Things. O'Reilly was writer in residence at the Whitechapel Art Gallery and Modern Art Oxford, producer and co-writer of The Last of the Red Wine, a radio sitcom set in the art world, and co-editor of the interdisciplinary broadsheet Implicasphere.

















© Joan Publishing